Our Team
The Glen Rock Jewish Center is blessed to have such fantastic and dedicated staff across all aspects of the organization, from its clergy to educators to building staff. Learn more about the great people who help support the Glen Rock Jewish Center below.
---
Rabbi Jennifer Schlosberg
Rabbi Jennifer Schlosberg became the rabbi at The Glen Rock Jewish Center in July 2015. During her time at the GRJC, Rabbi Schlosberg has led the community in several new initiatives. She envisioned and created the Mishpacha Minyan, a monthly interactive service for Hebrew School students and their families as well as Tot Shabbat, a monthly gathering for families with nursery school-aged children.
An excellent community organizer, she led a community-wide listening campaign, which surveyed congregants and ultimately led to the creation of several new programs and initiatives such as a teen youth program, a committee to address gun violence and a group organizing additional social and educational programs for adults.
Under Rabbi Schlosberg's leadership, the GRJC is now proud of our annual "Light up the Night" event, a popular Chanukah program for both children and adults (which features her fire-twirling skills), as well as our "Dinner and Dancing with the Torahs" Simchat Torah celebration. She enjoys teaching classes like "Judaism 101" and "Torah on Tap" and was responsible for securing the GRJC's first rabbinic intern, establishing an important partnership with the Jewish Theological Seminary of America (JTS). She is honored to be serving the Glen Rock Jewish Center and alongside her family, proud to be part of this vibrant community.
---
Hilarie Kay, Director of Early Childhood Education
Hilarie's life at the GRJC began with the initial opening of the school in 2000, when she was hired as an assistant teacher. The following year she became the Head Teacher of the four year olds and over the years in addition to the fours, she has also taught Kindergarten Enrichment, two-year-olds and Toddler Time. She became the director of the Glen Rock Jewish Center Nursery School in 2007.
Prior to the GRJC, Hilarie designed and implemented the first After School program at SSDS in New Milford. She also served as the Director of Youth and Family Services at the Mosholu Montefiore Community Center in the Bronx for several years.
Hilarie holds an M.Ed. in Early Childhood Education from Champlain College in Vermont and a Masters Degree in Social Work from Columbia University in New York City. She is a member of the National Association for the Education of Young Children (NAEYC); and a graduate of the Florence Melton School of Adult Jewish Learning. She is also an active member of the Jewish Early Childhood Directors Council which she helped found in 2012.
"At the GRJC I have the opportunity to combine two things that are extremely important to me: helping every child develop and shine to the best of their abilities; and my devotion to creating fun, exciting Jewish experiences that form the base of their lifelong journey of Jewish exploration. I also greatly enjoy working with all our families and our staff as we continue to learn and grow together on a daily basis."
Hilarie lives in Glen Rock with her husband, Bill. They have four children and a four-legged family member named Lucy.
---
Dr. Mark Silk, Hebrew School Director of Education
Dr. Mark Silk has been teaching doctoral level classes in educational administration at Saint Peter's University since 2013 and at the Bergen County High School of Jewish Studies since 2017. Previously, he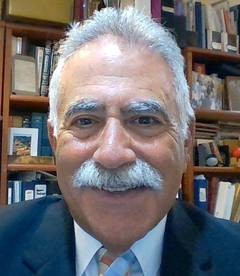 He received a BA from Columbia University in Music while simultaneously receiving a BHL in Jewish History from the Jewish Theological Seminary. He received an MA in Jewish Education in the Contemporary Jewish Studies program at Brandeis University and an Ed.D. in Curriculum and Instruction from SUNY at Albany.
Dr. Silk has three married daughters and is an avid swimmer.
---
Michelle Strassberg, Director of Synagogue Operations
Michelle joined the staff of Glen Rock Jewish Center in March of 2013, overseeing the day-to-day operations of the synagogue and providing support to the Nursery and Hebrew Schools. She sees her job as an opportunity to constantly improve the connections between GRJC members, trustees and staff, and to help the synagogue fulfill its vision.
Before coming to the GRJC, Michelle worked as a reference librarian at Bergen Community College. She holds a Masters in Library Science from Pratt Institute and received her undergraduate degree in English Literature from SUNY-Binghamton in 1989. She worked for several years in the Marketing Department of the New York Mercantile Exchange, and at the Glen Rock Public Library.
Michelle believes that every member of the GRJC community has something to offer, and she is excited to help the synagogue grow and fulfill its vision. Her door is always open, so please feel free to stop by and let her know how you would like to be involved in synagogue life.
---
Mindy Osterman, Outreach and Communications Coordinator
Mindy Osterman joined the GRJC family in 2012. Mindy maintains the GRJC's connection with members and the community by creating promotional pieces for upcoming events in addition to publishing our weekly e-newsletter, sending hard copy mailings to those without email and advertising for synagogue programming. Her job is to keep everyone informed of all that is happening at the GRJC. Mindy also maintains our Facebook and Instagram pages, using them to provide educational, cultural, communal and religious content to GRJC constituents. She is in close contact with program chairs, lay leaders and synagogue staff to make sure all things GRJC get the attention and attendance they deserve.
This position affords Mindy the luxury of combining her writing and design skills with her love of synagogue life and the Jewish community. Prior to joining the GRJC, Mindy served as Public Relations Coordinator for the Jewish Federation of Greater Middlesex County. Mindy graduated magna cum laude with a BA in Political Science from Brooklyn College of the City University of New York. She is a member of the Phi Beta Kappa academic honor society.
Mindy lives in Morris Plains with her husband, Scott. They have four children between them : three sons and a daughter. They also happily share their home with four lovable and delightfully spoiled felines.
---
JoAnne Forman, Administrative Assistant
JoAnne Forman joined the
GRJC team as Administrative Assistant in December 2019. She is excited to be part of such a vibrant, involved Jewish community.
Prior to coming to GRJC, JoAnne worked as an office manager in a doctor's office and as the administrator of Sha'ar Communities.
JoAnne has also served on the board of her synagogue and as president of AHAVA, the parent association of SSDS of Bergen County.
She spent many years as a stay-at-home mom and daughter. JoAnne has three grown sons and lives in Teaneck with her husband, David.
---
Joan became the bookkeeper of GRJC in 2010. She received a B.A. degree from Hunter College and in addition to working as a bookkeeper has also worked as a nursery school teacher.
She and her husband, Gunter, are members of Temple Avodat Shalom in River Edge. Previously they were long time members of Temple Avoda in Fair Lawn, where Gunter was President and Joan was a Trustee. All four of their children became B'nei mitzvah at Temple Avoda.
Joan is pleased to be able to contribute to the day to day function of Glen Rock Jewish Center. She enjoys working at GRJC surrounded by the wonderful nursery school and interacting with the kids.
Joan and Gun, who live in Fair Lawn with their rescued dog Skeet, are blessed to have three granddaughters.
---
Jorge Dager, Maintenance Supervisor
Jorge has been working at the Glen Rock Jewish Center since 2014, overseeing the maintenance of our Sunday School, and in August of 2020 took over as maintenance supervisor. He is originally from Ecuador and currently lives in Union City. Jorge is married to Nita, and together they share three daughters and two grandchildren. He is very happy to be part of the GRJC community.
---
Cantor Shaul Praver joins the GRJC for the High Holiday season, as he leads us in prayer and directs our choir. He served American synagogues from 1989 to 2013 on a full-time basis in the capacities of Cantor and Rabbi. He transitioned to prison ministry in 2013 and continues his service in that field on a full-time basis for the State of Connecticut. He completed his doctorate in ministry at Hartford Seminary.
Cantor Praver is a protege of Cantor Naftali Herstik of Jerusalem's Great Synagogue. He studied at the Israeli School of Cantorial Art and was ordained by the Rabbinate of Jerusalem in 1989. He is also a recording artist and has released the CD "Sacred Space" with original compositions that he co-wrote with Beth Styles. His 'Rabbi Rock" album "Visions and Echoes" is also original ground-breaking work.
Cantor Praver lives in Fairfield, Connecticut with his wife, Beth, and their three children, Noah, Shane and Charlotte.
---
Rachel Blumenstyk, Hebrew School Principal Emeritus
Rachel came to the Glen Rock Jewish Center in 1990 as the Principal of the Hebrew School. She is also an active member of the synagogue.
Prior to coming to the GRJC, Rachel taught at Temple Shalom (now Avodat Shalom) in River Edge, NJ, and she continues to teach there one afternoon each week.
The classroom is her passion. Rachel's greatest pleasure is bringing her students to their b'nei mitzvah and beyond, and helping them to find their love of and connection to their Jewish identity and the land of Israel. Rachel is very proud of her students, and she has developed programs to help bring the Hebrew School curriculum to life. Her newest program is "Jewish Art and Artists."
Rachel was awarded the Educator of the Year Award in 2011 from the Bergen County High School of Jewish Studies, and she was honored in 2006 by the Bergen Academy of Reform Judaism (BARJ). She was also honored at the GRJC 50-year anniversary gala, and also in 2015 for 25 years of service to the Glen Rock Jewish Center.
Rachel was born in Israel, served in the Israeli Army, and received her education at the Levinsky Seminar in Tel Aviv. She shares her life with her children and grandchildren.
---
Stefanie Gedan, Rabbinic Intern
Stefanie Gedan is a fourth-year rabbinical student at the Jewish Theological Seminary. Originally from Minneapolis, Stefanie is a graduate of the University of Wisconsin-Madison where she earned a BA in Jewish Studies, with emphasis in modern Hebrew. Prior to entering rabbinical school, Stefanie studied for a year at Yeshivat Hadar, an egalitarian yeshiva on the Upper West Side of New York.
In 2020, Stefanie commissioned as an officer in the United States Navy and will serve as an active duty chaplain upon ordination. She has been serving as the rabbinic intern at Adath Jeshurun Congregation in Minneapolis and is the student rabbi at the Fitzgerald Hebrew Congregation in southern Georgia.
Stefanie enjoys reading medieval fantasy, watching political dramas and developing her Disney and Torah class.
Mon, May 16 2022
15 Iyyar 5782
Mon, May 16 2022 15 Iyyar 5782